04 Nov

5th Annual Graveyard of the Atlantic Underwater Heritage Symposium set for April 7, 2018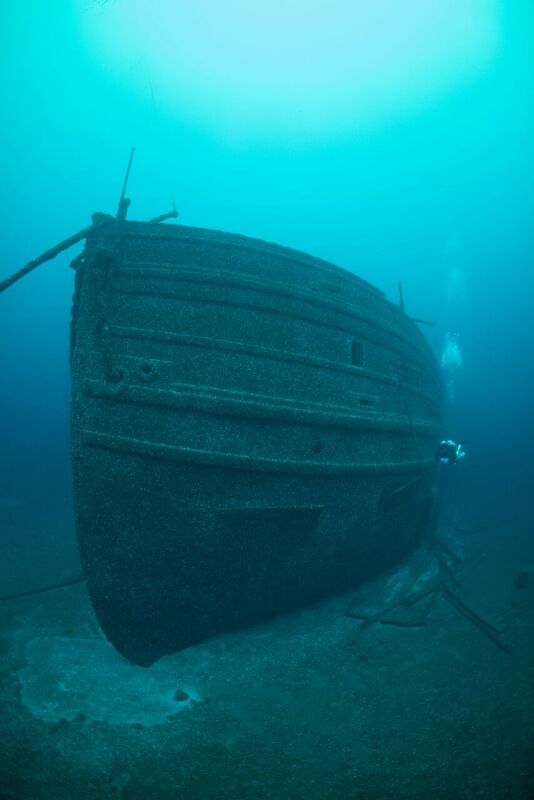 Early spring is the beginning of diving season on the Outer Banks and also when the Graveyard of the Atlantic Museum hosts its annual Underwater Heritage Symposium. The event is scheduled for April 7, 2018 from 10 a.m. until 5 p.m.
This daylong event features divers, underwater archaeologists, scientists and historians sharing fascinating presentations on underwater heritage to include diving adventures, research projects, environmental issues, and maritime history and culture.
There will be eight speakers covering a wide range of topics. Speakers include local and national experts with many years of experience dealing with the joys and challenges of diving and exploration. The list of topics and the agenda is listed below:
10:05 – 10:45 p.m. – U-Boats off the North Carolina Coast, Jim Bunch
Captain Horst Degen and U-701 arrived just off the coast of the Chesapeake Bay June 12, 1942, where he would soon enter and lay mines just off the shores of the Norfolk Naval Base. Degen commented: "As we approached the American Coast, we were entertained by radio programs and the latest news from American radio stations. They did not know who they were entertaining." He would shortly terrorize the east coast for less than a month before he was sunk off Hatteras June 7th.
In this presentation, Jim Bunch, with the help of Degen's recordings, describes what it was like during U-701's war cruise off Virginia and the coast of North Carolina.
Jim Bunch is a North Carolina Humanities Council Road Scholar, author, and professional diver who helped recover the Enigma Machine from U-85. Bunch is the leading authority on U-85 and has done more than 1000 dives on the German submarine. He's written two books related to U-85 and a third on the U-boat activity off the Outer Banks during WWII. He is available to sign copies of his books including the latest: U-Boats off the Outer Banks, Shadows in the Moonlight, published by The History Press.
10:50 – 11:30 p.m. – The Sinking of Diamond Shoals Lightship and SS Merak, Dave Sommer
Dave Sommers recounts the fascinating WWI sinking of Merak and Diamond Shoals Light Vessel – LV-71 on August 6, 1918 by U-140 near the infamous Diamond Shoals. The lightship crew fled in their yawl boat rowing for shore as fast as they could while watching the U-Boat shell the Lightship until she went down. Merak sunk quickly from the explosive charges and her location was lost to history. Captain Dave Sommers has been an active shipwreck diver exploring and documenting the shipwrecks off the North Carolina coast for over 30 years.
Captain Sommers and his wife Ann, also an experienced diver, operate Dive Hatteras, LLC, a business providing dive charter services from Hatteras, NC. He has amassed hundreds, if not thousands, days of experience diving shipwrecks of the North Atlantic, and sport diving at various locations in the Caribbean and the Eastern Pacific.
11:35 – a.m. – 12:15 p.m. – Wreck of Mirlo, Marc Corbett
One hundred years ago, the British tanker Mirlo, a victim of the Kaiser's U boats, exploded in flames just south of the Wimble Shoals buoy. The men of the US Coast Guard station at Chicamacomico enacted one of the most daring rescues in Coast Guard history and saved many of Mirlo's crew. Where is Mirlo now? Shipwreck researcher, writer, diver and photographer, Marc Corbett will bring to life this event in North Carolina Maritime history.
Corbett has lived on the Outer Banks of North Carolina since 1994, he is an avid scuba diver, surfer, and skateboarder. Combining a love for history and diving Corbett has become a shipwreck hunter, researching and exploring wrecks in shallow and deep water. He has a BS in Biology from Virginia Commonwealth University, and is a carpenter by trade. He also works on the dive boats Lion's Paw and Under Pressure out of Hatteras inlet.
1:20 – 2 p.m. – The German Battleship Ostfriesland, JT Barker
Ostfriesland was sunk July 21, 1921 by General Billy Mitchell off the coast of Virginia as a test of air power. Ostfriesland rests in 380 feet of water and more than 70 miles offshore. Capt. JT will show historical video footage of the sinking and blueprints of the battleship, and discuss the dives he has made to the wreck.
Capt. JT Barker has been a licensed captain for over 24 years. He is an avid wreck diver, Trimex deep diver, cave diver and adventure seeker. He started running dive trips in 1994, has dived and led trips to many prestigious sites including Andre Doria, E.M. Clark, Bow Mariner, USS Monitor and the famous wrecks of the Billy Mitchell fleet, which includes the German battle ship Ostfriesland 380ft and Light Cruiser Frankfurt 420ft. Capt. JT is presently exploring new wrecks while also running dive charters on his vessel Under Pressure for all level of divers in Virginia Beach, VA, and Hatteras, NC.
2:05 – 2:45 p.m. – NOAA's First Special Use Permit Dives, Hal Good
After a lawsuit and an act of Congress, NOAA issued an experimental "special use permit" to dive USS Monitor. The permit enabled amateur divers to dive this historic shipwreck for recreational purposes. This presentation will discuss events leading up to the first dives and will include photographs taken during the dives.
Hal Good has been diving for 50 years and has visited over 100 different shipwrecks including E.M. Clark, USS Monitor and Andrea Doria. He is a retired Director of Marketing for a scientific instrument company. In addition to diving and photography, he enjoys camping, music, and drinking craft beer.
2:50 – 3:30 p.m. – An Archaeological and Historical Shipwreck Investigation of the Miss Betty J., Joyce Steinmetz
To contribute to the understanding of maritime cultural landscapes and vessel abandonment in eastern North Carolina, this study documents the physical remains, site formation processes, and social history of one vernacular wooden shipwreck. Burnt to within two feet of the water's surface, the shipwreck is located in Wrights Creek, off the Pungo River and Pamlico Sound. At the start of the investigation and fieldwork, the author did not know the vessel's name. Identifying the wreck led to documenting a local master shipbuilder and his family traditions.
Joyce Steinmetz graduated from the East Carolina University Masters Maritime Studies program in 2010 and became a registered professional archaeologist in 2011. She is currently finishing a multi-disciplinary PhD in Coastal Resources Management with a maritime major.
3:35 – 4:15 p.m. – Two Decades Before the Mast with Blackbeard, David D. Moore
This year marks 300 years since the pirate Blackbeard lost his flagship Queen Anne's Revenge off Beaufort Inlet, North Carolina. In November 1996, the remains of the shipwreck were located by the private salvage company Intersal, Inc. From the vessel's capture in November 1717 until run aground off Beaufort the following June, Queen Anne's Revenge captured numerous prizes while ranging throughout the Caribbean and up the eastern seaboard as far north as Cape Lookout. Moore's lecture will reveal many of the highlights on the project since its inception over two decades ago.
After completing degrees in marine science (UNCW) and nautical archaeology (ECU), Moore spent 12 years working on a myriad of shipwreck sites with the Dark Side (treasure hunters) in Florida waters. At ECU, Moore began researching piracy and initially proposed the mission to locate Blackbeard's shipwrecks in 1982 as a graduate research project. Since the location of Queen Anne's Revenge in 1996, Moore has researched, dived, and studied the site as the Curator of Nautical Archaeology with the North Carolina Maritime Museum
4:20 – 5 p.m. – Commerce and Conflict: Wilmington, Fort Fisher and Blockade Running During the Civil War, John Morris
John Morris has directed numerous research projects in the United States and abroad for museums, research institutions, state and federal agencies, and the United States Navy. These projects have included the recordation of the Confederate raider CSS Alabama off the coast of Normandy, France, the complete documentation and recovery of a 16th century Spanish messenger vessel in Bermuda, and the decade long excavation of Betsey, an 18th century British transport lost at Yorktown, Virginia during the final battle of the American Revolution in 1781.
Morris directed the first maritime archaeological research investigations to be conducted in St. Augustine, Florida. He also created and directed the first independent institutional archaeological research program to be established in Florida; the Lighthouse Archaeological Maritime Program (LAMP). Morris serves as the Deputy State Archaeologist-Underwater for the North Carolina Department of Cultural Resources, Office of State Archaeology.
"The 5th Annual Graveyard of the Atlantic Underwater Heritage Symposium provides a unique opportunity for the diving community who have experience in diving along the Outer Banks to share their experience and knowledge with other divers and the public at large," states North Carolina Maritime Museums Executive Director, Joseph K. Schwarzer.
"The Graveyard of the Atlantic Museum is proud to host the symposium for the fourth year to provide a better understanding among sport and recreational divers and the public," he said.
The Graveyard of the Atlantic Underwater Heritage Symposium gives participants and the audience a chance to meet, talk shop and discover various fields of interest and share years of knowledge and expertise. It has become the annual event where divers and underwater archaeologists share their experiences with the public.
Contact Mary Ellen Riddle at 252-986-0720 or maryellen.riddle@ncdcr.gov, with questions and if you would like to receive via e-mail a list of local accommodations so you can book your stay early.
The Graveyard of the Atlantic Museum is located at 59200 Museum Dr., Hatteras, NC 27943. The public is always welcome. Admission is free and donations are always appreciated.